Math
Your child's favorite item from this Learning Area will appear here.
Captain Snacks Sparrow searches for Davy Jones' Cookie Jar.
Close
Play your own game of "One of These Things is Not Like the Other!" Put together three stuffed animals and one spoon, and encourage your child to guess which one is not like the other!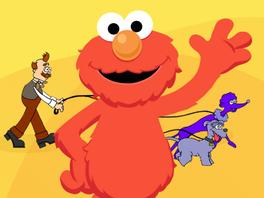 Help Mr. Noodle find all the dogs!
Close
Take a walk around your neighborhood with your child, and together, count how many dogs you see. How are they similar and different from each other? Think about their size, fur, ears, and tails.
Furry Potter is on a mission to capture the Goblet of Cookies.
The Count has 20 seconds to do a task.
The Count and friends sing the number of the day song!
Your child has not played anything yet