Learning Areas Summary
Your child has not played any videos, games or drawn with art maker.
Suggestions to get you started!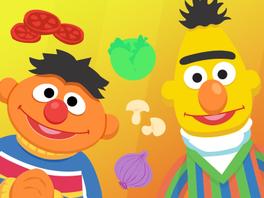 Follow the directions to help Bert and Ernie make healthy salads for their diner customers! Order up!
Close
When Bert gets frustrated, he slowly counts to three. Practice a calming strategy with your child so the next time she's having a big feeling, she can use it to help her calm down.
Top Learning Area
Prioritized Learning Area
Top Learning Area
Prioritized Learning Area
Top Learning Area
Prioritized Learning Area
Top Learning Area
Prioritized Learning Area
Your child has not played anything yet