Emotional Development
Your child's favorite item from this Learning Area will appear here.
Elmo feels proud that he achieved a goal through hard work.
Close
Encourage your child to talk about something he's proud of, such as putting on his shoes all by himself. Focusing on strengths and achievements will help him build confidence.
Oscar sings "Bein' Green"
A chicken convinces Elmo not to give up on his dreams.
Close
Remind your child of a time he struggled with something new, like catching a ball, but learned how with practice! The next time he tries something new, remind him that the'll get better with practice.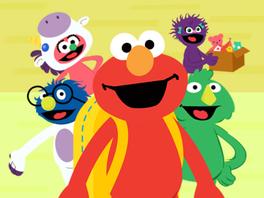 Elmo's going to school! Help him make new friends and solve problems on his first day.
Close
Using puppets or stuffed animals, role play one of the problems in the game with your child, or make up your own. Ask your child what she can do to help. If she has trouble coming up with a solution, give her a few options and have her pick one. Play out the solution together!
Elmo feels sad when his toy breaks.
Your child has not played anything yet