Health
Your child's favorite item from this Learning Area will appear here.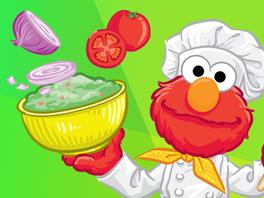 Help Elmo pop the bubbles to make Guacamole!
Close
The next time you cook a meal, invite your child to be your ingredient helper. Encourage him to help you count out the different ingredients and put them into a bowl.
Abby and Elmo find a way to cooperate.
Close
To cooperate means to work together! Try making a house out of popsicle sticks, and talk about how each of you can help complete it by working together as a team.
Some foods can help your teeth be strong.
Your child has not played anything yet