Logic and Reasoning
Your child's favorite item from this Learning Area will appear here.
Abby turns a pumpkin back into an elephant.
Close
Create your own fairy spells! Pick a word and think of two more words that end in the same sounds. Say all three rhyming words and wave your wand. Take turns making up spells!
Elmo guesses what is in the sky.
Close
With your child, make a picture of the sky! Talk about the different things that you might find in the sky like stars, a plane, or clouds. How many different things can fit in your sky?
Bert coos to call pigeons.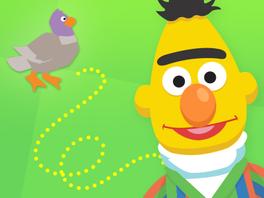 Draw a path from the pigeon to Bert!
Close
A pigeon is a type of bird that flies. Name three other things that fly. Can you think of any birds that don?t fly?
A customer tries to buy a suit from Grover.
Your child has not played anything yet