Math
Your child's favorite item from this Learning Area will appear here.
Four little chicks count their friends.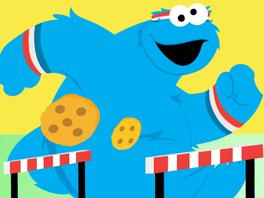 Help Cookie Monster manage his feelings while competing in archery, rings, and hurdles!
Close
Ask your child to show different feelings with his face like excited, frustrated, or scared. Take turns showing a feeling while the other person guesses!
The monster clubhouse meets and plays games.
Ernie and Big Bird play hide and seek.
Animation about the number five.
Your child has not played anything yet