Math
Your child's favorite item from this Learning Area will appear here.
The tree lady becomes a tree.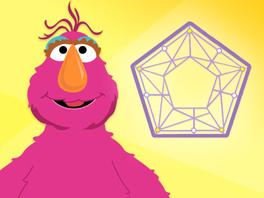 Close
After playing the game, help your child draw the shapes she saw. Help her use words to describe each shape such as, ?This is a triangle because it has three sides and three angles.?
Jack Black talks about the word "octagon."
Close
Make octagons! You and your child can create this eight-sided shape by using eight crayons, spoons, or blocks. Each time you make one, count the sides and angles. How many ways can you make octagons?
A song about ten tiny turtles
Your child has not played anything yet