Math
Your child's favorite item from this Learning Area will appear here.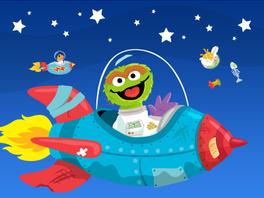 Help Oscar collect stinky trash in a spaceship, sub or airplane!
Close
Create your own collecting adventure! Hide blocks around the room and give your child clues to find them. Use language such as ?under the table,? ?between the chairs,? and ?next to the couch.?
Join the Pentatonix as they count to five.
Close
Hunt for numbers on the way to the grocery story. Your child can call out the numbers she sees on houses, street signs, and license plates.
Elmo and Abby sing about the number 2.
Close
A pair is two objects that are similar and used together, like a pair of socks, shoes or mittens. Find as many pairs of objects around your home as you can!
What flower comes next in the pattern?
Your child has not played anything yet