Science
Your child's favorite item from this Learning Area will appear here.
Murray introduces the word "experiment."
An astronaut visits the school he attended.
Jason Mraz sings about being outdoors.
Close
Outdoors is a great place to look for colors and shapes! Go outside with your child and talk about some of the shapes and colors that you find.
Grouches learn science in grouchology school.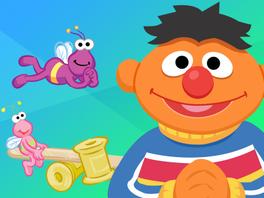 Experiment launching heavy and light objects.
Close
Experiment at home! Ask a question such as, ?Which of these balls will bounce the highest?? and help your child make a hypothesis. Test them out and then compare the results with your child?s guess.
Your child has not played anything yet