Science
Your child's favorite item from this Learning Area will appear here.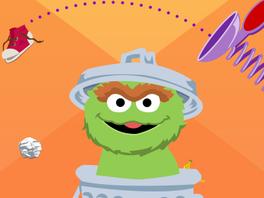 Use force to launch trash in Oscar's can.
Close
Explore force! Ask your child to push or pull a wagon or stroller. Compare an empty wagon or stroller to one filled with heavy objects. Which one takes more force to push or pull?
Elmo imagines himself in the sky.
Close
With your child, look up at the sky during the day and draw a picture of what you see. Look up at the sky again at night and draw another picture. How is the sky different during the day and at night?
It's fun to learn how paper is made!
Say thank you to the clouds for the rain drops from above.
Dorothy imagines Elmo as different bugs.
Your child has not played anything yet